AUTHENTICATED BIRTH CERTIFICATE
Please provide a notarized photocopy of the applicant's birth certificate.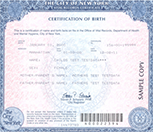 Birth Certificate
Notarized.
For residents of Arizona, Hawaii, Idaho, Montana, Nevada, Utah, Wyoming and within California the counties of Imperial, Kern, Los Angeles, Orange, Riverside, San Bernardino, San Diego, San Luis Obispo, Santa Barbara, and Ventura, please provide the original certified birth certificate.
This birth certificate must be authenticated from the Embassy of Brazil before visa processing can begin.
I do not have my original birth certificate, how can I get another one?