< Back
The Ultimate Traveler: Do You Need a Second Valid Passport
By Sarah V. Hines, on February 26, 2020
The Ultimate Traveler: going from country to country, do you need a second passport?

Balancing international travel dates can be a tricky process. There are various things to take into consideration, such as whether your passport meets the validity rules of the country you're visiting, whether you will need a visa before boarding the plane or whether there are restrictive entry policies based on previous countries that you've traveled to. Especially if you travel frequently, balancing the needs of multiple departure dates can be difficult. However, one tool that has made this easier for travelers is the issuance of a second valid passport.
First thing's first: a second valid passport does not replace your primary passport. If you lose your primary passport, you are instructed by the Department of State to report the loss immediately, regardless of whether you hold a second valid passport or not. In such case, you will be asked to submit your second valid passport to show that it has not been lost, as well. A second valid passport cannot be renewed; you will have to go through the entire process again to request a second valid passport after your first has expired.
A second valid passport comes in handy when you find yourself with multiple trips of which at least one requires you to turn your primary passport into a foreign embassy for a visa while needing to make another trip. In cases such as Russia, China or India, where the visa process can take weeks, you cannot reasonably expect to receive the passport back in time for travel within days. There are also issues when visiting countries that may have restrictive entry policies, for example, trying to visit Lebanon with an Israeli stamp in your passport. Where in Lebanon they do NOT permit visitors to their country if any trace of a visit to Israel is found in a passport. In these cases, you may be qualified to hold a second valid passport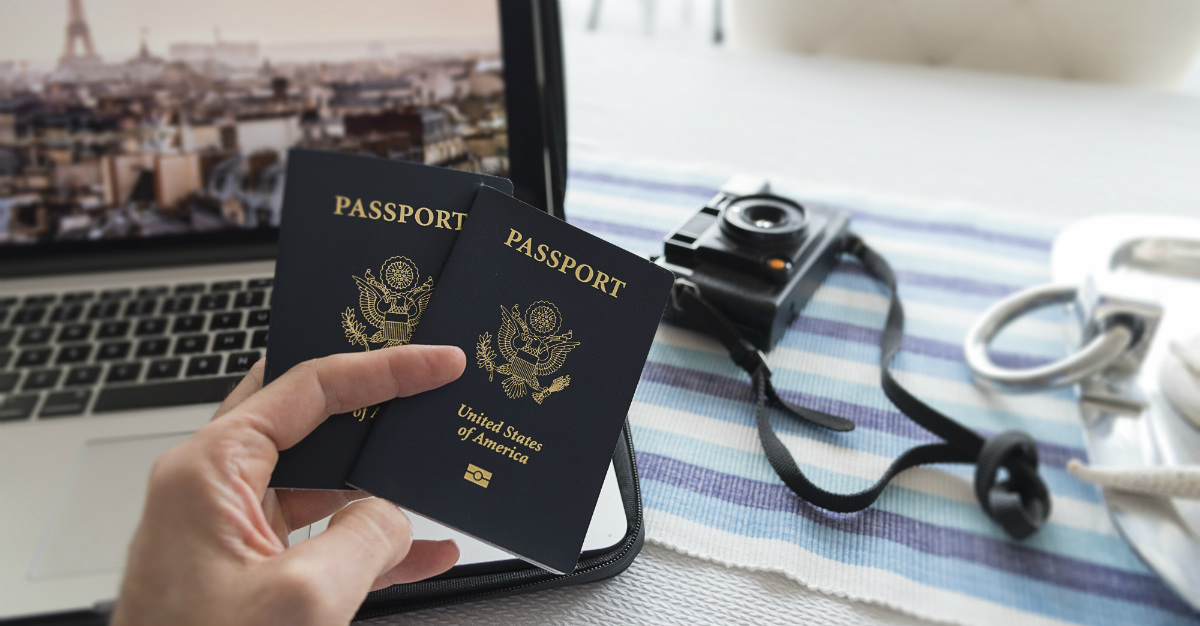 IMAGE SOURCE
The request for a second valid passport must be done before submitting your primary passport to the embassy issuing you the visa, as the Department of State requires it to be submitted to them before considering your application.
The complete application package will include:
• Your DS-82 passport application
• Your primary passport with at least two years of validity left
• A new passport photo
• A check or money order made out to U.S. Department of State for $170.00
• A letter addressed to the U.S. Department of State explaining the need for a second valid passport (either extended visa process with a need to travel in the meantime or restrictive entry policies), the understanding that the passport will be a limited validity passport for up to four years and the assurance that, should the passport be lost or stolen, it will be reported to the nearest embassy or State Department agency immediately
• Any applicable proof of travel and proof of the need for a visa. Letters from employers or travel agents are often considered adequate in lieu of a plane ticket, though the final word lies with the passport agent assigned to your application

Issuance of the second valid passport is at the discretion of the Department of State passport agent and is not guaranteed to be approved. Some issues that may result in a delay or denial are inadequate proof of a need for a second valid passport, a primary passport that will expire too soon or a passport that does not have enough blank pages to place a visa stamp. Like any other passport, the second valid passport can be expedited. If you require an expedited second valid passport, contact us at APVI.com to see how to get started.
Comments
Something to share? Speak your mind!